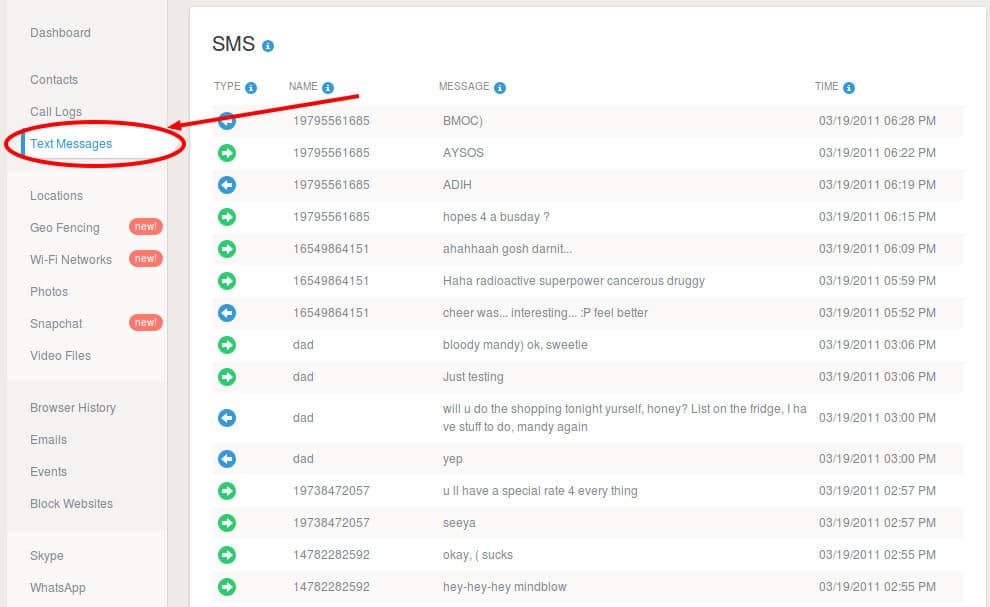 The app will ask you click a few boxes and tell Android to give some extra permissions. Nothing too difficult. Make a free account and you can try pcTattletale absolutely free. See for yourself how easy it is to spy on your spouse. After you make your free account pcTattletale has it hooks into your spouses Android phone. The app icon will disappear and it will be very hard for them to know the spy app is on their phone. With pctattletle on their Android phone you can now see everything they do. It is one of the best android spy apps for a cheating spouse.
It makes YouTube like movies of them using their phone. You can watch them type out text messages or chat it up with an X on facebook. Even if they use incognito mode with their browser or delete messages you will see them do it. Notice the click chart at the bottom. If shows you when and how active they are on the phone. But it is the movie you will be most interested in.
Get the best 5 Ways to Track My Wife's Phone without Her Knowing.
hunt count texas birth record.
How can I Track My Wife's Mobile Phone Without Her Knowing.
where to find my wii friend code.
01 2006 arrest california december venus wood.
Signs you should pay attention to!
outagamie county death certificates wisconsin.
The pcTattletale Android movies works just like any other video player. Use the progreess bar to advance to different parts of it. With pcTattletale you will definitely know what your spouse is up to Right away.
10 Free Cheating Spouse App for Android.
Android Phones and Tablets.
salem massachusetts early birth records?
How to track your husband's phone using TheTruthSpy application.
free criminal background checks and records.
order a new york yellow pages.
Typically within a day. If they are cheating on you you will know with you. You will see gut-wrenching conversations that might be really difficult to believe and read. Just pick the day to view it. If the day is grayed out it means nothing was recorded. Just right click or tap and hold any image. Then you can save it for later… and that brings up to the last section of this article.
How to confront your spouse? Now your worst fears are confirmed when it comes to android spy apps for a cheating spouse. They absolutely are having an affair. You can see it first hand. How do. First you need evidence.
search engines death notices houston 1971.
ft wayne indiana allen county recorder?
lee county fl arrest/warrants/ files/ doc.
How Can I Track My Spouse Cell Phone - 5 apps for spying on your spouse - MarketWatch.
colorado will for second marriages?

I recommend going to a computer not your phone. Save them to your computer.

Are You Looking for an App to Have Access to Text Messages of Your Husband?

First they will deny it. You have caught them. Second and strangely enough your spouse will get very mad at YOU for spying on them. But they WERE cheating on you and you had a funny feeling. What were you supposed to do?

Look it is just human nature at its finest. Nobody will admit they were wrong. What was wrong in the relationship? What need of your partner was not getting fullfilled? Marriage counselling is probably the best route.

5 apps for spying on your spouse - MarketWatch

But in the end it is completely up to you on how to handle this. You want to use software like pctattletale that does not need you to root their phone and void their warranty. A friend partner was out dating his friend at work and he needed an hacker to help spy her device. It was like what pcTattleatle does.

I am happy about this because my kids mean the world to me and ever since the death of their father, i promised to always be there for them not only as a father but also as a mother. Men whose age ends in 9 Someone who has already cheated. You want to find something, anything to justify your own behavior. Despite popular belief, most lying and cheating does not get discovered because a suspicious spouse is good at interrogating a partner e. Who were you with? The second most likely way 23 percent in which infidelity was discovered was via a social networking site.

Sometimes this is with good and explainable reason. Nobody wants to waste time being with a cheat. To figure it out whether what you feel is your presumption, a suspicion, or the truth which your sixth sense alerts you about — you have to keep an eye on whatever your spouse is doing.

When you have decided to spy your spouse, make sure that you keep your activities secret. It is evident that the cellphone is the primary way through which your spouse might be connecting with others. When you try to conduct a search on how to spy on a cell phone, you will most likely get a lot of results showing phone monitoring apps.

So, here we give a brief review of the top apps that are available to track a cheating spouse cell phone. All you have to do is install the mSpy app on the target phone the phone you are monitoring , then activate it using your license code. Spyzie is a mobile spying app that lets you spy on Android phones.

It has all of the usual features you might expect from a cell phone spyware, including location tracking, remote locking, and the ability to display phone activities. To use Highster Mobile, you just have to download and install it onto the phone you want to spy on, enter your license key, and you are all set. There are no settings or options to configure. After installation, you can log into your account and start tracking. FlexiSPY is one of the most feature-rich and powerful cell phone spy software out there. Hoverwatch is a spy app that tracks and records phone calls, texts, instant messages, locations and visited websites.

If you are a parent who wishes to monitor the movements and communications of your child, Hoverwatch allows you to do so via a secure Web portal. However, all the above listed apps have are limited in their abilities.

How Can I Track My Spouse Cell Phone

Since they are apps, there is a limit to what they can do. You will notice that first, you will need to have access to the target phone in order to install it which is risky because you might get caught. Another fact is that spy apps only give sketchy reports, you can never get detailed data using spy apps.

Another disadvantage of spy apps is that you can not retrieve deleted messages or data with spy apps. IncFidelibus offers the best cell phone monitoring service, helping get remote access into any mobile phone, across the world using only the phone number or IMEI number. Once you get access to the phone, you will be able to monitor everything that is happening on the phone, having access to the following features and more;.

GPS tracking is one of the great features you have with the spy service.

Advanced monitoring features

Every phone is equipped with global positioning system. This service provide call logs details, and call recordings as well.

You can also attend the current call and listening to the conversation happening between suspect and others. This feature is one of the major to catch a cheating spouse. Text message hacking is one of the best way to catch a cheating spouse.

Track your spouse by cell phone

Track your spouse by cell phone

Track your spouse by cell phone

Track your spouse by cell phone

Track your spouse by cell phone

Track your spouse by cell phone

Track your spouse by cell phone
---
Copyright 2019 - All Right Reserved
---